NEW RED THERMOFORMED LHD CARPET FOR 205 CTI CABRIOLET + PHASE 1 AND 2 CENTRAL PIECES + UNDERFELT KIT
BRAND NEW MANUFACTURING IN NEAR-ORIGINAL QUALITY
THIS CARPET IS HAS THE CLOSEST ORIGINAL QUALITY FOR YOUR PEUGEOT 205 CTI. THE TEXTURE OF THE CARPET IS MUCH SOFTER, THICKER, THE SHADE IS A BRIGHT RED, CLOSE TO THE ORIGINAL SHADE. BEST CARPET FOR YOUR 205 INTERIOR  RESTORATION.
ONLY FOR PEUGEOT 205 CTI CABRIOLET - PHASE 1 ET 2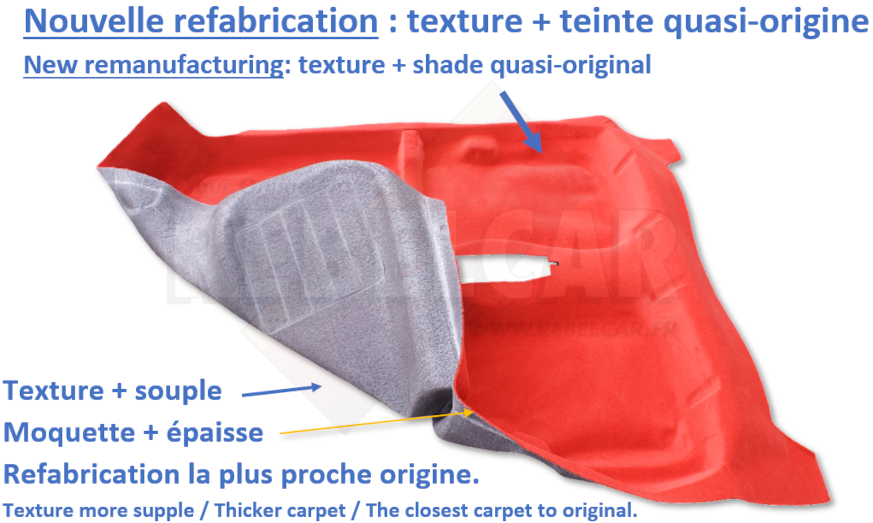 INCLUDES: CARPET + PHASE 1 AND PHASE 2 CENTRAL TUNEL PIECES + UNDERFELT KIT
FOLDS MAY BE PRESENT AT THE ENDS OF THE CENTRAL BEAM
THIS NEW MANUFACTURING IS MORE QUALITATIVE BUT ALSO MORE FRAGILE, JUST LIKE THE ORIGINAL CARPETS: THE CARPET MUST BE FOLDED FOR TRANSPORT; UNPACK IT IMMEDIATELY - THESE CARPETS NECESSARILY HAVE SLIGHT DEFECTS, PARTICULARLY AT THE CROSSING OF THE PLANES, THE HOLLOWS CAN FORM VERY SLIGHT TEARS OR SHOW THE COVERING ON WHICH THE CARPET IS STITCHED. IF YOU ARE MANIC DO NOT ORDER THIS PRODUCT.
IF YOUR ORDER THIS CARPET WITH SHIPPING ANYWHERE ELSE THAN FRANCE, YOU MUST CONTACT US PRIOR TO PAYING BECAUSE WE HAVE TO PROVIDE YOU WITH A QUOTATION FOR SHIPPING FEES.
GET A NON-RETROACTIVE 3% DISCOUNT WHEN PAYING BY CREDIT CARD OVER THE PHONE.
WE ACCEPT DIRECT PICKING-UP 
Price for a complete kit, including: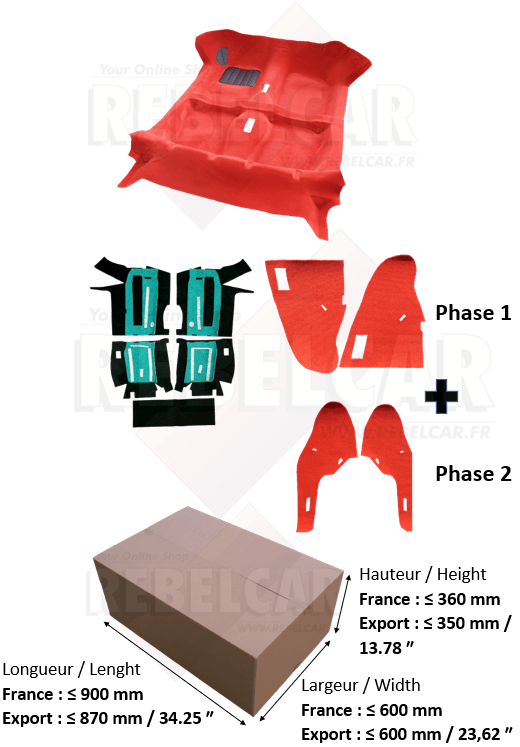 FRANCE PARCEL PREPARATION TIME: 25 minutes
EXPORT PARCEL PREPARATION TIME: 60 minutes
✅ NEW MANUFACTURING
✅ VERY CLOSE TO ORIGINAL QUALITY
If you want features that are not displayed on this product, you must contact us before ordering.
Approval : this article has not been proposed for any approval / homologation process by the manufacturer.