Reconditioned BOSCH air flow meter for Peugeot 205 GTI 1.9 122 HP / 309 GTI16 / 405 MI16 et Citroën BX 16 valves
Reconditioned air flow meter, BOSCH original model, reference 0 280 202 202 specifically designed for the Peugeot 205 GTI 1.9 122 HP. This meter is a used model, refurbished to new. The picture is non-contractual (product already sold) but represents very well the meters that we sell. We recover flow meters in good or very good condition. This results in complete disassembly for inspection and testing of internal parts, followed by micro-blasting and complete repackaging.
The plastic cover is disassembled and then glued, traces of silicone glue may be present. The flowmeter is then tested on a 205 GTI with engine in perfect condition. If the result is not satisfactory, the flowmeter is put aside for parts. We only ship tested and validated flow meters in good working condition and perfectly functional. Note that this is a used part and that traces of use may be present.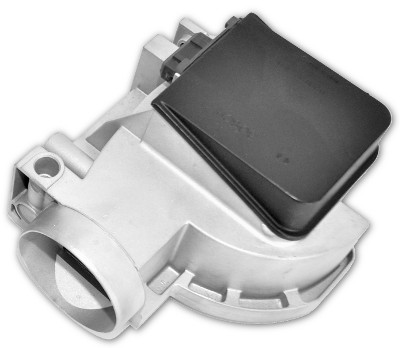 Fitting
This flowmeter is only suitable for Peugeot 205 GTI 1.9 cc engine 122 HP version. Be sure to check the compatibility of your engine with this reference according to your version.
Installation
The installation of this flow meter does not require any particular technical knowledge because it is sufficient to connect it. However, it will be necessary to make positioning adjustments if your 205 no longer has its original air box.
Guarranteed part
This meter is a refurbished used model, it does not benefit from the legal warranty of the manufacturer. However, we guarantee the part 2 months, from the date of receipt, only if it is installed on the original air box of the vehicle. Beyond this, any wear will not be taken under warranty. This information is contractual. In case of concern, simply contact us to run your warranty, you will receive a new air flowmeter. Here are our detailed terms of warranty. We advise you to install it upon receipt.
Other references and parts
We also have other BOSCH references for 205 refurbished in stock. You can contact us.
Reconditioning procedure
The repackaging procedure consists of a first input check of the used part, to see if it is usable or not. If the flowmeter can be refurbished, it is completely and thoroughly disassembled for a first cleaning (removal of dust and possible other residues). This is followed by a micro-cleaning of the external metal surfaces and simply washing for the plastic parts. We check upstream the proper functioning and condition of all components, and if necessary intervene in particular the electronic track, the flap, the flap, the valve and the duct. The electrical resistance is controlled. Some components may be replaced with original elements. According to the interventions, as an indication we could note that the malfunction of the flow meter is often related to scratch wear of the potentiometer. It is this wear that changes the impedance, causing power losses, injection cuts and unstable idling. At the end of the repackaging, this defect is corrected for the return to a normal operation of the flow meter. In the end, the piece is tested on a 205 GTI. If the test is successful, the piece is put in stock and available for sale on our site. A normal behavior of a 205 is a steady idling even cold, a little higher the first 3/4 minutes cold in general, then a stabilization of the idle to slightly above 1000 rpm. As the engine reaches optimum performance when hot, please always let it warm up before driving, then drive the first 10-15 kilometers without forcing. It is in these conditions that you will see a linear acceleration / deceleration, without cuts, without jerks, including with a more sporty driving.
Débitmètre BOSCH 0 280 202 056 Débitmètre BOSCH 0 280 202 056p pour Peugeot 205 GTI 1.6 Débitmètre BOSCH 0280202056 Débitmètre BOSCH pour Peugeot 205 GTI 1.6 Débitmètre BOSCH d'occasion pour Peugeot 205 GTI 1.6 Débitmètre BOSCH reconditionné pour Peugeot 205 GTI 1.6 Comment réparer mon débitmètre pour Peugeot 205 GTI Air flow meter for peugeot 205 gti Air flow meter BOSCH 0 280 202 056 for peugeot 205 gti Débitmètre BOSCH pour Peugeot 205 GTI Bon plan pour trouver un débitmètre d'air pas cher pour ma 205 GTI Débitmètre d'air BOSCH neuf 205 GTI Débitmètre d'air BOSCH neuf trop cher pour 205 GTI Qui sait où acheter un débitmètre d'air pour 205 GTI débitmètre d'occasion pour 205 gti 1.9 débitmètre d'occasion pour 205 gti 1.60 280 202 056 Référence BOSCH 0280202056 BOSCH référence 0 280 202 056 BOSCH 0 280 202 056 205 GTI 1.6 Débitmètre Flowmeter Air flowmeter Débitmètres d'occasion Débitmètres reconditionnés Vente en ligne de débitmètres reconditionnés Que pensez-vous des débitmètres reconditionnés de REBELCAR ? Acheter un débitmètre d'occasion Garantie pièce débitmètre reconditionné Débitmètre reconditionné REBELCAR REBELCAR reconditionne des débitmètres d'air pour youngtimers Débitmètre introuvable refaire, reconditionner, réparer Acheter un débitmètre d'air reconditionné en ligne sur rebelcar.fr REBELCAR.FR REBELCAR.COM SARL REBELCAR Rebelcar Neydens Rebelcar France www.rebelcar.fr www.rebelcar.com REBELCAR plaques REBELCAR plates Site web de REBELCAR Boutique REBELCAR